The system is based on a 600mm square high performance moisture resistant chipboard panel machined to provide a corner lockdown facility. Corner locking is achieved using a clamping washer and screw. The panel is supported by an adjustable zinc plated steel pedestal with a moulded plastic cap which provides positive location for the panel and includes provision for the lockdown screw. The pedestal base receives the unique Kingspan snap-on flexible polymer based acoustic pad which fits snugly around the base ensuring continuous acoustic separation between pedestal and the slab. The pedestal and acoustic pad can be adhered to the slab using a specially formulated adhesive with the pedestal base and acoustic pad both having been designed to enable adhesive penetration through the combined unit to ensure full system adhesion to the slab. At the perimeter a class O fire rated foam tape is employed between the floor and wall to help minimise flanking transmission.
Acoustic performance
Achieves the requirements of part E of Building regulations when used as part of Robust Detail floor construction E-FC-1, E-FC-2 & EFC-7.
Download Data Sheet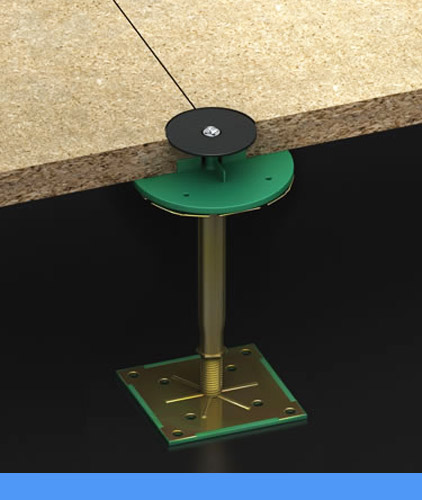 Call Us: +44 207 729 5299
Email Us: info@rafcuk.co.uk
Address
137-139 Whitecross Street, London, EC1Y 8JL
Email Address
info@rafcuk.co.uk
Phone Number
Support: +44 207 729 5299