TRAFC ENVIRO RANGE PANELS PSA MOB PF2 / BSEN The TRAFC Enviro Range of raised access flooring panels is the judicious choice for many of the leading refurbishment companies in the UK.

We believe that everyone should be conscious of the effects the building industry has on the planet and make long-term choices to help the environment, both for the current generation and the generations that follow.

That's why our TRAFC Enviro Range of tiles is such a popular solution to the needs of companies throughout the country. Many construction companies are now working towards setting new standards with the introduction of the BREEAM construction rating.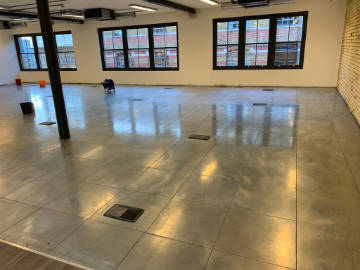 At RAFC we have been leading the way for many years and will continue to do our best to use great quality recycled materials where possible. the panel produced in today's market. With attitudes finally changing towards a "Greener planet". The TRAFC Enviro Range is an environmentally sound choice to value engineers and save on overall project cost. Specially designed with the CAT B market in mind the Enviro Range of tiles is the perfect solution. Our TRAFC Enviro Range is available as a supply-only option or a fully installed basis.

The Raised Access Flooring Company will install on new steel pedestals using a one or two-part adhesive to form a new flooring structure at whichever height is applicable to suit your requirements. As the market leaders in recycled panels, our TRAFC Enviro Range of tiles are tested in-house and offer the added advantage of being Fully Warranted to our end user. Our Enviro Range panels are professionally cleaned to remove any previous adhesive or carpet tackifier. They are then palletised ready for delivery to your Projects anywhere in the UK. All of our TRAFC Enviro Range panels meet the original manufactured specifications and can still match the performance of the raised access panel produced in today's market
Call Us: +44 207 729 5299
Email Us: info@rafcuk.co.uk
Address
137-139 Whitecross Street, London, EC1Y 8JL
Email Address
info@rafcuk.co.uk
Phone Number
Support: +44 207 729 5299