TRAFC Flooring System
Is a PSA certified medium grade panel. With it's high grade 30mm chipboard core with steel top sheet and bottom tray all roll formed together creating a fully steel encapsulated panel to be loose laid allowing for complete electrical continuity. The manufacturing process results in a panel that is dimensionally accurate with a rigid perimeter exceptional resistant to damage. For more information on the various panels please see our data sheets on the link below.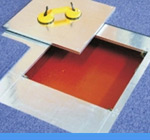 Fortress ED31F5 Flooring System
Is a gravity loose lay panel made up of high density particleboard wrapped in a galvanised sheet steel which is corrosion resistant. The panels have a triple rolled edge to increase strength, durability, and overall quality. These panels have a nominal thickness of 31 mm and come in 600 x 600 mm dimension. For more information please download the data sheet below.
Download Data Sheet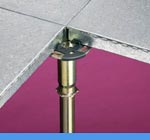 Knauf GIFA Flooring System
Is a partial-access raised floor system made from natural gypsum based calcium sulphate. GIFA is the ideal solution for special finishes such as sheet vinyl, stone and ceramics and as such eliminates the need for applying plywood and deitre mat. The panels are tongue and grooved, come in standard thicknesses of 25, 28, 32 or 38mm and are 1200 x 600mm in dimension.

Another benefit with GIFA is that it can also be used as a screed replacement. This time saving and cost effective solution also has the added ability to run services underneath the floor and gives good insulation against transmitted impact sound.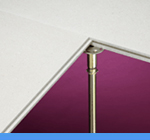 Call Us: +44 207 729 5299
Email Us: info@rafcuk.co.uk
Address
137-139 Whitecross Street, London, EC1Y 8JL
Email Address
info@rafcuk.co.uk
Phone Number
Support: +44 207 729 5299